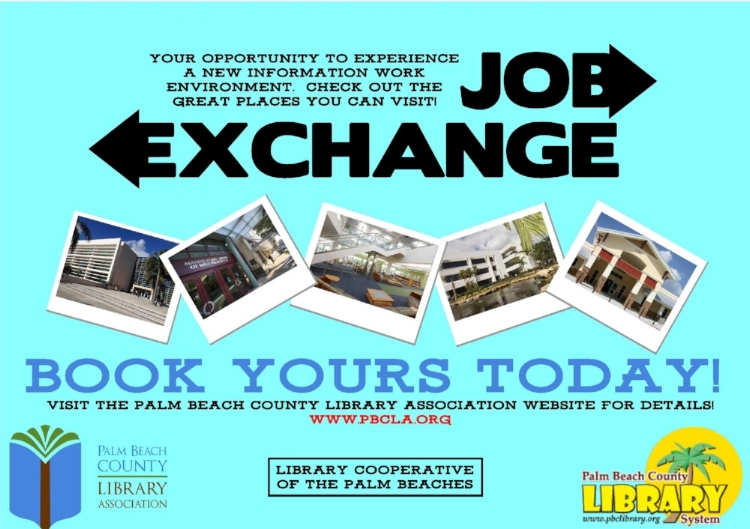 Explore the libraries of Palm Beach County through a Job Exchange! The Palm Beach County Library System (PBCLS), the Library Cooperative and the Palm Beach County Library Association (PBCLA) are all partners is this countywide initiative. All information service providers - professionals and paraprofessionals - are welcome to participate in the exchange program to network and learn from other providers in different library and information agency settings. These exchanges/visits have allowed information service providers an opportunity to meet, exchange information and share experiences.

The Job Exchange initiative is a "self-service" exchange program. Interested staff "sign up" by completing an online registration form and then contact a library location from the list provided to coordinate and schedule their own visit.
Follow these simple steps for a perfect exchange experience:
Obtain supervisor approval to participate in a Job Exchange.

Select a location that you would like to visit from the list provided. Links to their websites are provided.

Complete a participation form to register your exchange.

Contact your selected exchange location directly to arrange a visit on a mutually agreeable day, time and duration. Share any specific areas of interest you may have and want to explore, i.e. research, collection development, genealogy, children's activities, Inter-Library Loan, etc.

Confirm your visit several days prior to your visit to ensure that they are still expecting you, to determine parking arrangements, entry to the building, lunch plans if visiting for a full day, etc.

VISIT, LEARN and ENJOY!

Complete the brief online Job Exchange Activity Report following your exchange.
* Non-PBCLS Participants: Please complete the Job Exchange Activity Report here.
* PBCLS Participants: Please complete the "Staff Development Training Activity Report" on the Staff Resources Page.
Thank you for participating!
If you have any questions or concerns please contact:
David Scott - Committee Chair
(Greenacres Branch Library)
(561) 963-0140; scottd@pbclibrary.org
Russell Gift - Job Exchange Program Liaison
(Main Library - PBCLS)
(561) 233-2724; giftr@pbclibrary.org
Kim Huffstutter - PBCLS Representative
(Jupiter Branch Library - PBCLS)
(561) 744-2301; huffstutterk@pbclibrary.org
Kate Houseal - North Area Representative
(Acreage Branch Library - PBCLS)
(561) 681-4100; housealk@pbclibrary.org
Gabbi Kroh - Central Area Representative
(Wellington Branch Library - PBCLS)
(561) 790-6070; deitekerg@pbclibrary.org
Erin Muske - South Area Representative
(Jupiter Branch Library - PBCLS)
(561) 744-2301; muskee@pbclibrary.org
Robyn Hemond - Committee Resource
(Annex - PBCLS)
(561) 649-5437; hemondr@pbclibrary.org